31 years of successful activity on
the selection and seed production market
Diana MV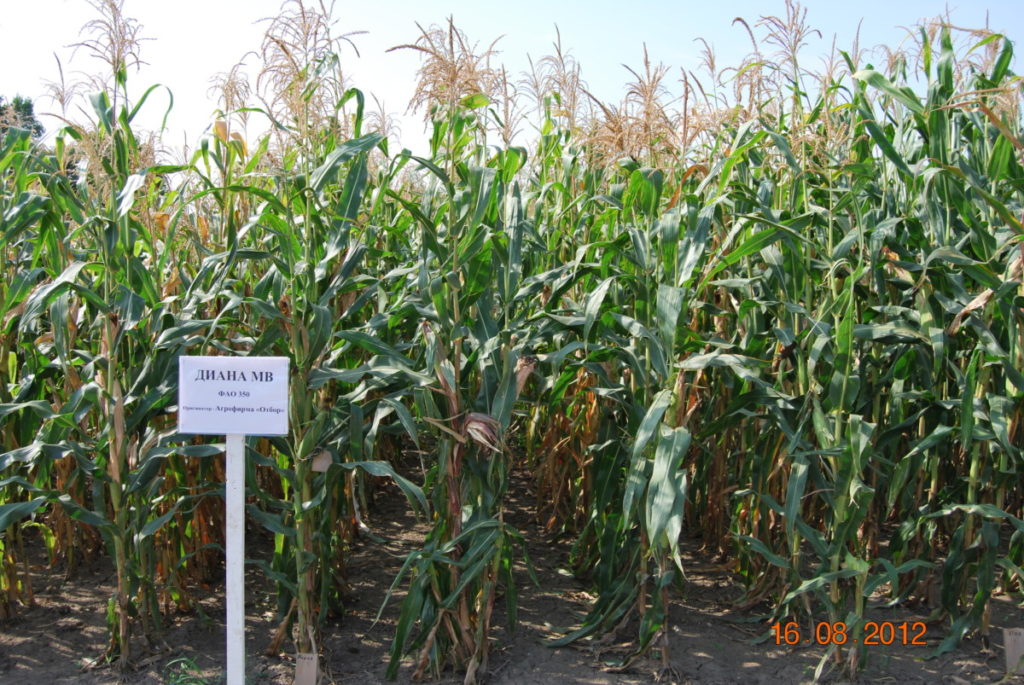 Description:
Mid-season (FAO 350) maize hybrid developed by Agroindustrial Firm of Innovative Production OTBOR Ltd. Hybrid is registered in National Registry of Selection Achievements Eligible for Usage. This hybrid is recommended for forage usage in Central Black Earth Region and Middle – Volgian Region.
Plant height is 240-260 cm, non-tiller. Number of leaves on the main stem is 20 – 21. Low cone-shaped maize cob at height 110-115 cm, weight of cob is 180-200 g, length – 24-26 cm. Number of cob seed rows – 16. Ear shank is in red color. Diana MV has yellow half- flinty seeds, weight of 1000 seeds approximately equals 270-300g.
Average yield of seeds for three years stationary-tests was 87.3 hundred kilograms per hectare. In normalized dry substance the yield of green mass was 148.5 hundred kilograms per hectare.
On-the-farm test performed in LLC Interinvest, Georgievskiy Region of the Stavropol Territory, has shown the result of 103 hundred kilograms of moist grains per hectare by direct combine harvesting.
On-the-farm test performed showed the following forage yield:
Scientific-Research Institute of Agriculture and Breeding in Zhodino, the Republic of Belarus – 977 hundred kilograms per hectare,
LLC Agrotechnologiya, Pronskyi district of the Tula Region – 680 hundred kilograms per hectare.
Key hybrid peculiarities are high feed value and high level of cattle palatability and digestion.
Hybrid has shown normal resistance to head smut disease and basic plant and maize cob diseases, also shows normal resistance to European corn borer.
Hybrid highly responds to high level of soil fertility. Recommended degree of density in case of seeds and forage sowing on bogharic lands is 50 thousand of plants per hectare, on irrigated lands – 65 thousand of plants per hectare.
Tolerable regions:
Central Black Earth
the Belgorod Region, the Voronezh Region, the Kursk Region, the Lipetsk Region, the Oryol Region, the Tambov Region
Middle – Volgian
The Penza Region, the Republic of Mordovia, the Republic of Tatarstan, the Samara Region, the Ulyanovsk Region